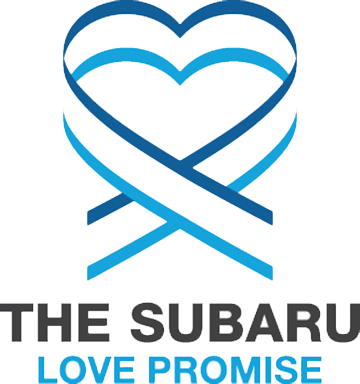 What is the Subaru Love Promise?
Subaru and our retailers believe in making the world a better place and the Subaru Love Promise is our vision of respecting all people. This is our commitment to show love and respect to our customers and to work to make a positive impact in the world.
How is John Kennedy Subaru dedicated locally to the Love Promise?
John Kennedy Subaru's Love Promise can be seen in various partnerships with local charities and non-profits. We have been very fortunate to meet different people who give so much of their own time to important causes. We also feel lucky to be able to participate in getting the much needed assistance for some of these great charities and non-profits. We're grateful for the opportunity, not only to be a part of this wonderful community in Montgomery County, but to serve it as well.
Home at Last Dog Rescue , National Canine Cancer Found, Mostly Muttz Dog Rescue
Valley Forge National Historical Park
Colonial School District Education Foundation
Love Promise Stories from John Kennedy Subaru
Subaru and John Kennedy Subaru believe in making a positive impact on the communities in which we live and work. We uphold that belief through our Love Promise Community Commitment. Every month, we select inspiring stories from customers and partners from around our area who strive to support our collective commitment and feature them here
Upper Merion Area Community Cupboard - Tim D
The Upper Merion Area Community Cupboard (UMACC) is a food pantry open to anyone who lives within the bounds of the Upper Merion Area School District and is hungry or food insufficient. The UMACC's efforts nearly quadrupled during the pandemic, serving as many as 160 households each and every week. This is not an uncommon tale in communities with relatively higher costs of living, and Bridgeport, Conshohoken, Upper Merion and Wayne are among those municipalities affected by a hidden poverty. In fact, according to Feeding America's "Map the Meal Gap" project, Montgomery County has the state's lowest percentage of food insufficient persons who qualify for state food support programs. The need is significant, and sadly, it is increasing. More recently, the UMACC immediately responded to the needs of the Bridgeport community in the wake of flooding caused by the remnants of Hurricane Ida, which displaced more than 100 households. The UMACC has paid for hotel accommodations for these households while they navigated the long process of connecting with county and FEMA resources, made weekly food deliveries to hotels, replaced more than a dozen vehicles lost to the flood waters, and has begun to invest in the relocation of these neighbors in new housing placements. This life-saving and life-sustaining work was only possible by the generosity of the community, including thousands of dollars freely offered by our friends and community partners at Kennedy Subaru. For centuries, the empathetic and compassionate care of the less fortunate has been celebrated by a multitude of religious and philosophical traditions as a central and meaningful facet of the human experience. Our hope is to raise a greater awareness of this need within our community, and to nurture the values of empathy and compassion more overtly within our community. There is enough abundance and compassion within our communities to ensure that no one goes hungry. We fully expect that when these community assets are organized, we will see the level of hunger need diminish, and, we will also see a greater sense of meaning and community within our towns. Many voices have shared the sentiment that a chain is only as strong as its weakest link. It is our hope and expectation that these efforts will contribute to the strengthening of our most vulnerable neighbors, and that in doing so, we will nurture a stronger and better Bridgeport, Conshohoken, Upper Merion, and Wayne. The UMACC is grateful for Kennedy's partnership and investment in these very good efforts!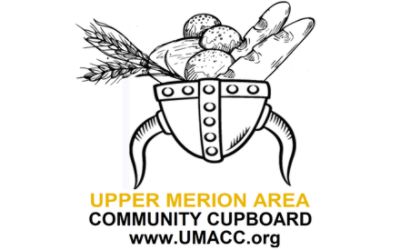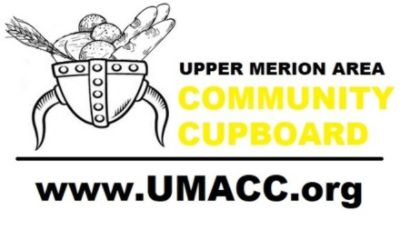 ---
Patrician Society Assistance Programs - LeeAnn R
The Patrician Society has been providing various human service programs in the greater Norristown area of Montgomery County since 1981. The financial support that we received from John Kennedy Subaru enabled us to assist three financially-strapped families who were behind in their utility bills because of loss of jobs due to the Covid pandemic. These families are not accustomed to being delinquent and were extremely grateful to the wonderful folks at John Kennedy Subaru for being there in these distressing times. (Nobody needs to have their electric turned off at any time, let alone in the winter!) Thank you John Kennedy Subaru!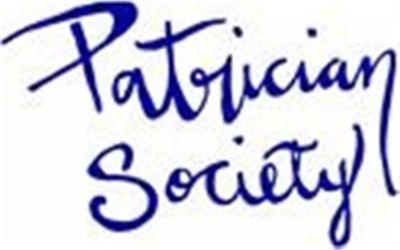 ---
Sharing the Love with Meal on Wheels - Robin R
KeystoneCare is a charitable nonprofit organization that provides a full continuum of home health and hospice services. For more than 20 years, we have been helping improve the quality of life for our patients and their families, regardless of stage of life or state of health. Our services include home care, palliative care, hospice, private duty, and a Meals on Wheels program. In 2018, KeystoneCare participated in the Subaru Share the Love Event. Since 2008, Subaru of America has sponsored this event. It raises money, through the sale of Subaru's, to benefit national and hometown charities. Subaru donates $250 to a charity for every Subaru sold in December, and one of those charities is Meals on Wheels America. Partnering with John Kennedy Subaru, KeystoneCare promoted the event at John Kennedy's showroom in Plymouth Meeting. On several Saturdays in December, John Kennedy provided a space as well as a table and chairs to display our materials, to welcome customers, and explain our mission. Our point of contact, Anthony Barone, General Manager, was gracious and helpful from the start. He worked with us to arrange dates and provide us with what we would need on-site. The sales staff kindly helped us in setting up and breaking down our display, and they also spent some time to understand the work of KeystoneCare, our commitment to the community, and the impact we have on patients and families. They were friendly and supportive. By the end of the campaign and with all requirements met, KeystoneCare presented its application for evaluation to Meals on Wheels America. For our efforts, we earned over $5,800. We were thrilled with our success and pleased to have additional resources to support our program. The money we earned from the Save the Love Event allows us to serve more people and to enhance the operations of the program. For example, we are now able to purchase and install a route planning program that can analyze the delivery locations and determine the most efficient way for the person delivering the meals to travel. This kind of tool is both a time and money saver. It helps to get the meals to our clients in the most direct way. The money is also useful for purchasing supplies for the program such as labels, food containers, or food wrap. John Kennedy Subaru was always enthusiastic about our program and so very positive about the supporting charitable endeavors. Mr. Barone's cordiality helped to make Keystone feel welcome at the dealership and positive about our task. We warmly thank everyone at John Kennedy for their interest. In the past, Share the Love has helped local Meals on Wheels programs deliver nearly 2 million meals to vulnerable seniors nationwide. It is wonderful to have the generous support of Subaru in helping us ensure that homebound seniors receive the daily nutrition and companionship they need to thrive.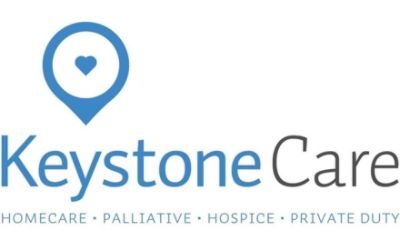 ---
John Kennedy Subaru & LLS bring love to CHOP! - Gracie G
For the second year in a row John Kennedy Subaru of Plymouth Meeting, PA helped the Leukemia & Lymphoma Society bridge a deeper relationship with the Children's Hospital of Philadelphia. On Tuesday, June 25th, 2019, Josh and Maria from John Kennedy joined the team of the King of Prussia CHOP pediatric oncology floor to bring brightness to young patients in treatment. We met Mary, 8 year old survivor, whose dream is to become a fashion designer. And Hailey, who loves Peppa pig! The Leukemia & Lymphoma Society is so grateful for the CHOP partnership introduced by John Kennedy and are thrilled that this year, CHOP and LLS have made deeper connections so that patients might receive the most up to date financial assistance and patient programs. We're so grateful for John Kennedy Subaru! On behalf of all of the patients and families we serve, thank you!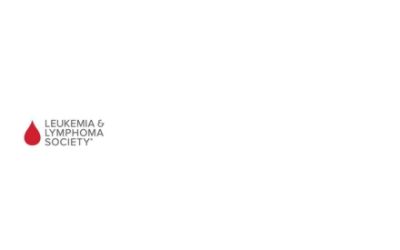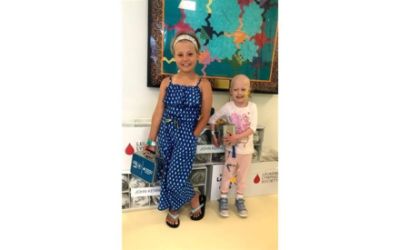 ---
$18,000+ donation to cover free summer meals - Kim N
More than 20% of Colonial students benefit from free or reduced breakfast and lunch during the school year. Now, thanks to a donation from John Kennedy Subaru in Plymouth Meeting, several of those children — as well as students taking part in the Conshohocken Elementary Summer Camp like those pictured here — will also be able to take advantage of the free meals program provided by the District for any child age 18 or younger this summer. "To us, it's about helping the community where we're based. We've been tied to the schools for some time and donated books to the elementary schools," said Anthony Barone, General Manager of John Kennedy Subaru. "When we heard that the donation would be going toward the summer meals program, we were thrilled. It's important to give back locally." The $18,390 donation was part of Subaru of America's national Share the Love event. Between Thanksgiving and New Year's Day, customers who bought a car could select one option from a small group of local and national charities to receive a donation from Subaru. The total reflects more than 50 people who purchased a car at John Kennedy Subaru during that time, plus a $5,500 donation from the dealership. "We're excited about the opportunity to partner with John Kennedy Subaru and that so many of their customers chose to help hungry kids this summer through the Colonial School District Education Foundation," said Denise Marks, Director of Development & Curriculum Supervisor for Career Readiness. "For some children, school meals are the only ones guaranteed for the day." The free summer meals program will be available at Conshohocken Elementary School and Plymouth Elementary School on Mondays through Thursdays for six weeks in the summer. There is no paperwork to participate in the program. Food Services personnel will serve any interested child age 18 or under at the school during the designated hours.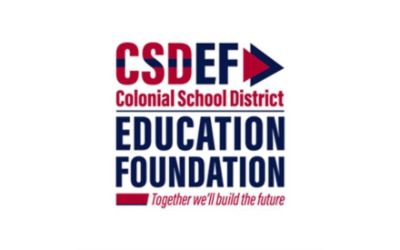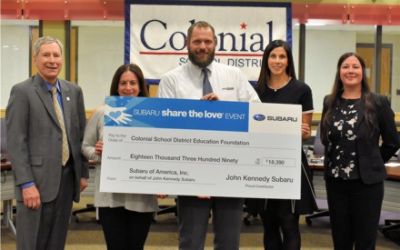 ---
John Kennedy Subaru & CHOP Share the Love! - Jenn P
It's hard to believe that the smiling family in this photo have just endured their first full year with their son, brother, and friend in treatment for Acute Lymphoblastic Leukemia (ALL). Patrick is 10 years old and on July 10th, 2017 he was diagnosed, and a treatment plan was put in place.Patrick would be in treatment for 3 full years. "The past year has been trying. While ALL is not without its barriers, the disease is usually relatively treatable", noted his mom Bethann.That was not the case with Patrick. His body refused to metabolize his much needed treatments and every visit for infusions at CHOP meant he might be placed in overnight care. Bethann shares this story with a smile in her eyes because Patrick is tough and has the support of his family especially his older brother Jacob and his little sister Emma.When John Kennedy Subaru selected Children's Hospital of Philadelphia as their hospital of choice during Subaru Loves to Care month, they not only wanted to deliver blankets and kids craft kits, but insisted on something additional. Anthony Barone, General Manager & Loves to Care contact, wanted to "Share the Love" a little more this year so that John Kennedy Subaru could not only wrap a blanket around a patient but wrap their arms around a him as wellIn speaking with Patrick's family, LLS learned that Patrick and his brother Jacob share a small bedroom and they could really use more space. Patrick's mom knew it was a big idea, but the sky is the limit when your child is sick. We asked Anthony (from John Kennedy Subaru) if he could help in some small way, and he offered to send a contractor out to Patrick's house to start exploring ways in which the room could be expanded.Construction is now in the planning stages and we look forward to making over Patrick's room to add some brightness to what has been and what will be a difficult journey in treatment.This amazing Loves to Care delivery from John Kennedy Subaru to Children's Hospital of Philadelphia in King of Prussia, Pennsylvania has led to a new relationship between LLS and providers within the hospital as well as a heartwarming long-lasting relationship between Patrick's family, LLS, and Subaru. As a result, John Kennedy Subaru has also selected The Leukemia & Lymphoma Society in Eastern Pennsylvania as their Hometown Charity of Choice for Share the Love. Thank you, from the family of Patrick Vanderslice, and from all the patients and families served by the Subaru & LLS community.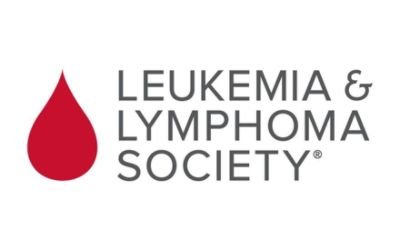 ---
Einstein Medical & John Kennedy Loves To Care - Monique R
On July 7th, 2017 The Leukemia & Lymphoma Society (LLS) of Eastern PA and John Kennedy Subaru teamed up to deliver blankets, cards and craft kits to patients going through cancer treatment at Einstein Medical Center East Norriton. Many representative of the Hospital and Subaru retailer were in attendance to present the blankets. Photos were taken upstairs in in the Oncology office in the Minerva D. Braemer Medical Arts Building on the campus of Einstein Medical Center which were then sent for publication in the local newspaper. The Einstein medical staff was very pleased be a recipient of the blankets and appreciative of the Subaru Loves To Care campaign. LLS and Subaru hope that a patient's spirit was lifted by the delivery of these blankets.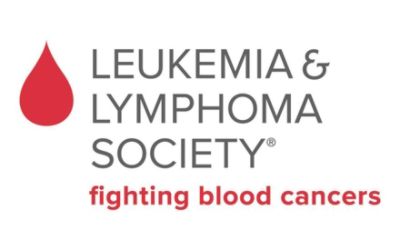 ---
2017 Mostly Muttz Rescue Check Presentation - April and Mary M
We are so thankful to have received this generous donation from John Kennedy Subaru in Plymouth Meeting. A chunk of this money is being used to fund heart surgery for a very special puppy named Gwinnie. Gwinnie was born in our care in November of 2016 and for the first 6 weeks she was a happy, healthy puppy, but then she started not being able to hold her food down. We recognized immediately that she had a condition called MegaEsophagus and on xray, we could see that it was being cause by a blood vessel that had no dissolved properly in-utero which was now constricting her esophagus and not allowing normal puppy kibble to pass into her stomach. Gwinnie was diagnosed with Persistant Right Aortic Arch (PRAA) and surgery is the only way to the fix issue or eventually, she would die from lack of nutrition. We were very lucky that she was a candidate for the minimally invasive surgery at the University of Pennsylvania Veterinary Hospital. Gwinnie had her surgery on April 13th, it was successful and she did so well, she came home the next day! She is recovering well and we anticipate she will live a long and happy life in part from the generous donation from John Kennedy Subaru! The picture below is Gwinnie coming home from surgery.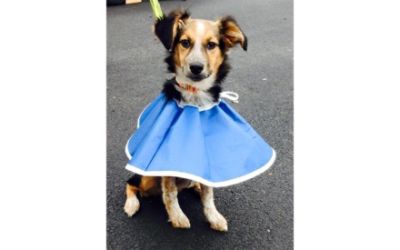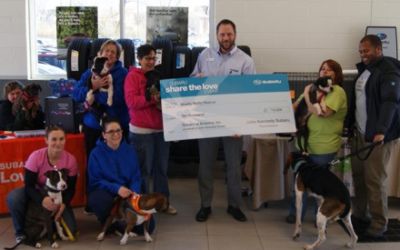 ---
Valley Forge National Park Recycling Project - Scott N
John Kennedy Subaru is fortunate to be located near one of our nation's most historical sites, Valley Forge National Historical Park. Valley Forge is a fee-free park open year-round and sees nearly two million visitors annually. With more than 3,600 acres of rolling hills and well-worn trails, Valley Forge is now a magnet for runners, bicyclists and picnickers as well as history buffs. Numerous events are held each year including the Valley Forge Revolutionary 5-Mile Run every April. Anthony Barone, the General Manager of John Kennedy Subaru, was visiting the park last year and came up with connecting the dealership and Subaru's focus on the environment with the national park somehow. After speaking to Liz Gustafson, the Corporate Partnerships Coordinator for the National Park Foundation, Anthony's offer to supply recycling bins for park events was warmly welcomed. On April 17, 2016, the John Kennedy Subaru recycling bins made their debut at the Revolutionary 5-Mile Run and was helpful in making the event a little more environment-friendly.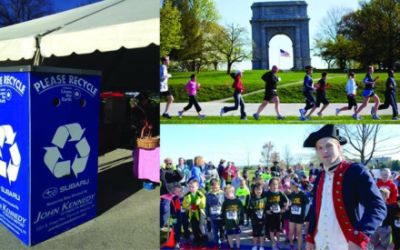 ---
Mostly Muttz Rescue Receives Share The Love Check - John Kennedy S
With the backdrop of an April snow shower, Anthony Barone, the General Manager of John Kennedy Subaru, presented a check for $6,641 to the Mostly Muttz Rescue for being the Hometown Charity during Subaru's Share The Love Event at the end of last year. On Saturday, April 9th when the Delaware Valley saw a rare spring snow, the service drive at John Kennedy Subaru went to the dogs; adoptable dogs that is. The wonderful volunteers of Mostly Muttz Rescue brought a bunch of their furry friends with the goal of trying to find loving homes for them. Mostly Muttz Rescue is an IRS registered, 501(c)3, public charity that is an all-volunteer, foster based canine rescue striving to keep man's best friend from dying alone in the shelter system. They do not limit their life saving efforts to just those dogs that will be the easiest placements, but often choose to save dogs suffering from curable illness within the shelter system. The people at Mostly Muttz believe every dog, regardless of health, deserves at least a fighting chance to live, to love and to be loved for the entirety of their life. If you're interested in fostering or adopting a dog from Mostly Muttz Rescue, you can visit their website; http://www.mostlymuttz.org or email mostlymuttz@gmail.com.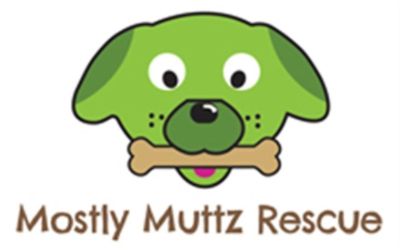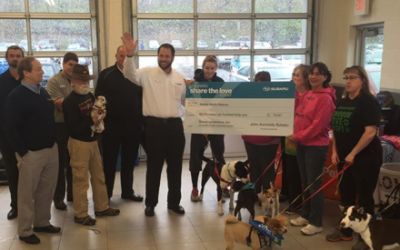 ---