Plymouth Meeting Subaru Car Parts - John Kennedy Subaru
With our extensive in-stock auto parts inventory, John Kennedy Subaru is likely to have the exact Subaru car part or accessory in Plymouth Meeting that you need. Conveniently serving the Plymouth Meeting, Norristown, Villanova and Philadelphia, Pennsylvania area, our Subaru car parts department will help you keep your car, truck or SUV running like new. We carry OEM auto parts but can also get almost any auto part by VIN number. You can also order auto parts online using our convenient parts order form.
If you need repairs instead of parts, please visit our Subaru car repair page, or come in to our Plymouth Meeting Subaru dealership at 1201 E. Ridge Pike.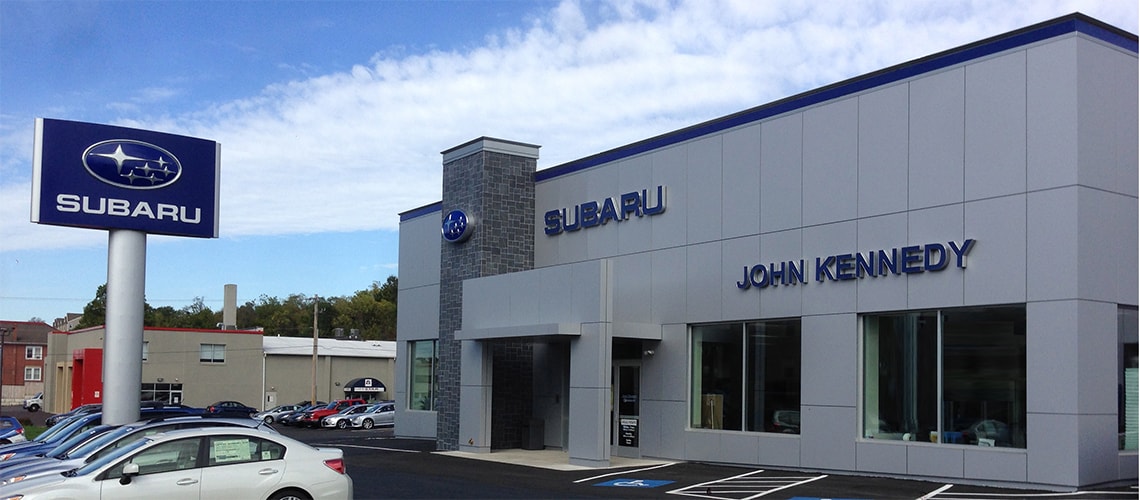 John Kennedy Subaru is Ready for Your Visit!


The all-new John Kennedy Subaru has been completed and is now open. This was a complete renovation that now offers customers' new amenities and enhancements that will make your visit to our dealership an even more pleasant experience.
As you enter the showroom, you'll notice interior upgrades from higher ceilings, large wall graphics and new lighting creating a bright and comfortable atmosphere. The old "open-air" offices have been transformed into newly furnished, individual sales offices along with two private business offices and a glass-enclosed management business center.
Upon entering the customer lounge, you'll immediately notice the rich hardwood flooring with soft leather seating around its perimeter. You can also choose one of the pub-style tables and chairs to catch up on some work while you're waiting. There's also an internet station where you can plug in and connect online while enjoying a morning beverage and snack that is available at the coffee bar located across from the customer lounge.
One of the biggest improvements this renovation has revealed is the indoor service drive. This will be truly appreciated when bringing your Subaru in for service during inclement weather. Simply drive up to the automatic door and pull inside to our service drive. You'll be greeted by one of our Service Advisors as you exit your vehicle where we can immediately start the service order and visually check your Subaru if needed.  
We also added an extension to our service facility that has doubled the amount of service bays that the old facility had. This will increase the efficiency our service work allowing us to cut down the waiting time during peak hours and making it more convenient for you to get in, out and on your way. And speaking of "on your way", when you do pick up your Subaru after service, you'll now have a freshly washed Subaru to drive home. That's because we've added a new car wash to the facility; something we've always wanted for a long time.
We hope you'll enjoy the new John Kennedy Subaru as much as we are.